This is a good place to have a brief explanation about our site.
The Reenactment Hobby has been growing since the 1960's when the 100th anniversary events of the Civil War took place. Every five years we seem to go through a number of major reenactments on the dates (or near them)of the decisive battles of the war. In 1999 the battle reenactment at Chicamauga attract 25,000 participants.


If you are interested in participating, we hope that you will contact or join one of the Federal or Confederate units hosting this site. You do not need to ride to reenact a cavalry unit, although some of us do.

College Credit for Reenacting History

For those with a more scholarly approach to history, Dr.Jim Volo and his wife, Dr. Dorothy (recipient of five Celebration of Excellence teaching awards) teach courses in living history that can be taken for college credit. Many teachers from around the Northeast have taken these course for personal development,for continuing education credit, and for salary increases over the last decade. The courses are accredited by at least one of the major colleges and universities listed on our other pages. The cost is reasonable (and a lot less than on campus).

WE CAN COME TO YOU.
Teachers and administrators should taken note that courses and living history presentations can be arranged at your location on a range of topics.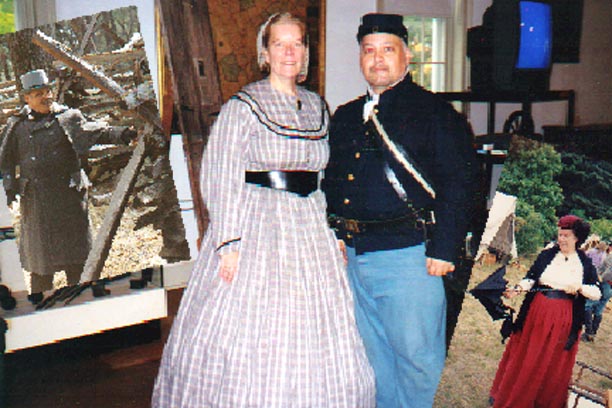 Available Courses or Presentations [August 2003]:
Daily Life in Civil War America

Daily Life in the American Revolution

Daily Life in the Age of Sail: 1588-1815

Daily Life on the Colonial Frontier: 1603-1763

Daily Life in Medievil Times

Daily Life in Antebellum America

Crafts and Trades: The World of Work in the 18th and 19th Centuries

Shakespeare:Understanding the History Plays

Dr. James M. Volo, Ph.D. & Dr. Dorothy Denneen Volo, Ph.D.
28 Shepherd Street
Norwalk, CT 06851
203 846 4678

Email:
jimvolo@yahoo.com