Contact Us:
This is the perfect place to let us know what you think. Questions? Comments? Would you like to become part of this engrossing and exciting hobby?
Membership in the reenacting hobby is open to all persons who are willing to abide by the rules, by-laws, and safety regulations of the sponsoring organizations and event coordinators.


Although the 1st Connecticut and 7th Virginia are cavalry units, you need not ride or own a horse in order to fully participate.


Artillerymen and gunners are needed by both the canon and volley gun batteries.


THIS IS A FAMILY HOBBY

Families are welcomed and encouraged to join, and period activities for women and children abound throughout the hobby.Children's games, ladies' fashion shows, teas, and shopping at the sutler's store can be found a most events.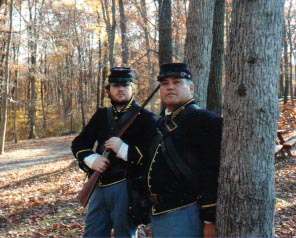 Sgt. Jim Volo
28 Shepherd Street, Norwalk, CT 06851 Phone: 1 203 846 4678
Email:
Click Here

Go to photo page
Click Here
Be Sure to Visit Our Photo Page Before You Leave the Site.