What's New Page: College Credit
Yes. You can get real college credit by studying history through the reenacting hobby.
That's right! You can take a Living History course taught my Jim and Dorothy Volo (Living History Specialists) for Graduate Credit offered through Open Corridors Schools, Inc. The credit is granted by one of several universities depending on the course. In the past the University of Bridgeport, Fitchburg State College, the College of New Rochelle, Anna Maria College, and the Massachusetts College of Liberal Arts have all granted up to 3 graduate education credits for one of these courses. CEU's are available in some states. Courses meet for five full day sessions in MA, CT, or NY or on selected weekends depending on the course content. For large groups we can come to you. Don't be misled! These courses require some real work, but wouldn't you rather be doing HISTORY than reading about it? Besides Jim and Dorothy like to dress in all these period clothes.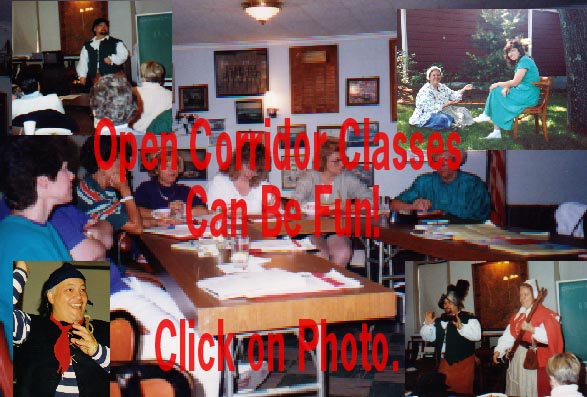 Actually those of us who take reenacting seriously have decided to enter the 21st century and make contact with all of you history lovers out there on the web.
There is no better place to learn and understand the history of the Civil War than on the battlefields and in the camps. Can you imagine the high interest, motivating materials and curriculum development ideas that you can bring to your students by taking these courses? The Living History Program is almost a decade old and hundreds of teachers have benefited from its content integrated format. Every content area is discussed and activities for all K-12 classes are explored. Click on the Photo Now!